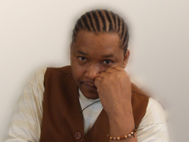 Tony Nero began his journey of art from the Caribbean island of St Vincent, where as a child his natural talents were realised. While attending secondary school in London his passion for art grew and this was encouraged by his art teachers.
Tony whose brushworks are Vibrant & diverse works in various different medium such as pencils, charcoal, pastels, oils, water colour and stipple-dot drawings. He is quite at home when working in either of these mediums. With the majority of his skills being self taught he also undertook formal training in the fine arts at the London Guildhall University there he developed a specialised technique in abstract oil paintings.

He is also trained as a graphic designer and worked in the music industry producing record sleeves, posters and magazines for a period that exceeded 20 years. Part of this time spent running his own graphic studio.Tony has also produced graphic works and artistry for charitable purposes. This includes the Peterborough Environment Week 2005 leaflet, which was produced for Peterborough City Council, Cambridgeshire. His work has been displayed at the former Peterborough Art House and are held in homes and private collections across the Caribbean, Spain, France, UK, Kenya and New York. Some of his works hang in the corridor and offices of the Marie LLoyd Day Care Centre, Hackney Council, London. And the Millennium Centre in Peterborough.
In November 2006 "Waiting to Prey", the oil painting which depicts the glorious Golden eagle, was shown in the South Holland openarts competition and exhibition, in Spalding.

Thank you for visiting Tony Nero brushworks, your comments regarding the works are welcomed.
For further information on any of the works in this gallery or to place a comission contact Tony on Tel: 07984 366142, by email: art@tonynerobrushworks.com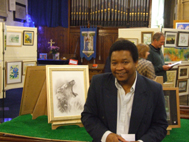 Artist Comment
If you ask me when did I first become interested in art, I would have to say that it all started when I picked up my first pencil. Way back when I first started school and learning to write my alphabet, I would write a very large single letter on each page of my writing book, which I got in trouble for. I guess at this point this was just the begining of my artistic endeavours.
My first ever oil painting was done on a small bit of card I had torn from an empty cornflakes packet.
Over the years my passion for art has grown and I love to paint just about anything. Inspired by nature, people, surrealism, life and other artists. I also love the effect of light and dark and sometimes love to work while listening to music. Learning all the time while trying to improve my work and hoping to evoke something in the viewer. Now, without art in my life I would be like a butterfly without wings.
The above photographs were taken at the Whittlesey Open Arts Exhibition, October 2007, which ran from Friday to Sunday and was well attended. Great to see so many local artists taking part. I must thank my good friend Mick Acavomic for taking some great pics and for getting me there above and beyond the call of duty.