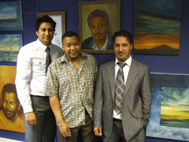 Being my first solo exhibition means this is the first time the collection has been all together in one space. Going by the positive and encouraging comments left in my guest book I feel that the pieces of work were well received. There were a variety of works to look at, not everything appeals to everyone but most people had their favourite. Some people stayed a while looking at different paintings and asking questions.
During the day even the ET (local paper) turned up, there was an art student Philip, who spent quite some time sketching one of the nudes to include my work in his art project. One of my young visitors 6 year old Maia requested a photo with me for a presentation she was doing at school. Also after speaking with 12 year old Helen about the technique in one of the abstract pieces, it inspired her to go off and try one, not only for the end result but the fun involved in creating it. How pleasing to see my work inspire people even if in the smallest way.
The 'angels without wings' spent the majority of the day coming and going, at one point from the upstairs window I saw Frankie chasing down the road after two women to give them leaflets and tell them about the exhibition, or possibly drag them in by the scruff of their necks.
To view exhibition catalogue and Leaflet , download pdf files :
Extracts of me - my first solo exhibition took place on 7th June 2008 at Martin & co in Peterborough UK, the following is my account of the days event.
The night before the big event, my super cool turned into super nervous, as it then became apparent that not only my work will be on display but myself also. But as the day unfolded, friends turned into 'angels without wings' and gave their unconditional support and for this I must thank Frankie, Caroline, Aruna, Nighit, Helen and Andy. Refreshments were laid on, all sorts of nibbles, pineapple and cheese, cheese and olives and even home made cakes.
The day went smoothly with a steady flow of people coming in throughout the day, there was support from colleagues and even friends and family came from London. My dad was in his element as he posed for photos in front of his portrait.